Welcome to my ZQuiet snoring mouthpiece review.
You could say that finding the right anti snoring mouthpiece can be just as much of a challenge as snoring itself.
There are literally thousands of products in the marketplace and I don't blame you for not knowing which one is the best for you.
That's why I like to offer impartial reviews of various products on this website and therefore making the right decision shouldn't feel like such a chore.
So, today I want to look at the device on offer from ZQuiet.
Firstly, just to make things a little easier, I will say that if you are someone who suffers from congestion or any other type of nasal condition then ZQuiet could offer a suitable solution for you.
The problem as I see it is that many anti snoring mouthpieces require you to breathe through your nose, and if this isn't an option for you, well purchasing one of these devices is as good as money down the drain.
However, the ZQuiet device supports mouth breathing while you sleep, as it includes ports for air which allows your mouth to stay partially open. In fact, you are even able to move your mouth and talk while you wear it.
Product: ZQuiet Snoring Mouthpiece
Price: $79.95
Cheapest Place to Buy: zquiet.com
Type of Product: Anti Snoring Mouthpiece
Guarantee: 60-Day Money Back Guarantee or 30-Day Trial For $9.95
My Rating: 9 out of 10
What Is the ZQuiet Mouthpiece?
The ZQuiet mouthpiece is a dentist designed, mandibular advancement device (MAD). This basically means the device (and MADs in general) advances the lower jaw by a few millimeters.
Just this simple and small movement of the lower jaw will prevent the base of the tongue from blocking your airways. Snoring is typically caused by a vibration of the soft tissues in your throat which occurs when the airways are narrowed or blocked (although you should be aware that there are various reasons why people snore).

Who Are ZQuiet?
Trina and Dan Webster are the founders of ZQuiet.
They developed the ZQuiet mouthpiece in 2008 in collaboration with medical and dental experts.
Dan's snoring had an impact on both his health and his relationship. He typically kept his wife Trina up night after night, and both of them suffered from exhaustion and frustration.
They started a family (so more sleepless nights) and they even ended up sleeping in separate bedrooms for a while, as Dan's snoring was becoming too much for either of them to cope with.
This is what eventually led them to looking for a solution, something that would solve Dan's snoring, and of course save their marriage.
The result of their research is the ZQuiet mouthpiece.
It proved to be an overnight success and to date they have helped over a million people to stop snoring with their FDA-cleared and approved mouthpiece.
Ever since the inception of the ZQuiet mouthpiece in 2008, Dan and Trina have worked tirelessly in the field of snoring cures and their website now offers various other products including, nasal breathing aids, chinstraps, positional therapy aids, and snore canceling earbuds.
How Does The Product Work?
You will actually receive two devices from ZQuiet, which I guess in a way allows for customization, i.e. getting your mouth used to wearing a mouthpiece overnight.
If you check the bottom of the devices they are clearly marked number One and Two.
Device number one will advance the lower jaw by a mere 2mm and should be worn for a minimum of the first 3 nights so your jaw can get used to being held in a slightly forward position. If you find that you are still snoring, then move onto mouthpiece number 2, which will advance the jaw by 6mm and should make all the difference.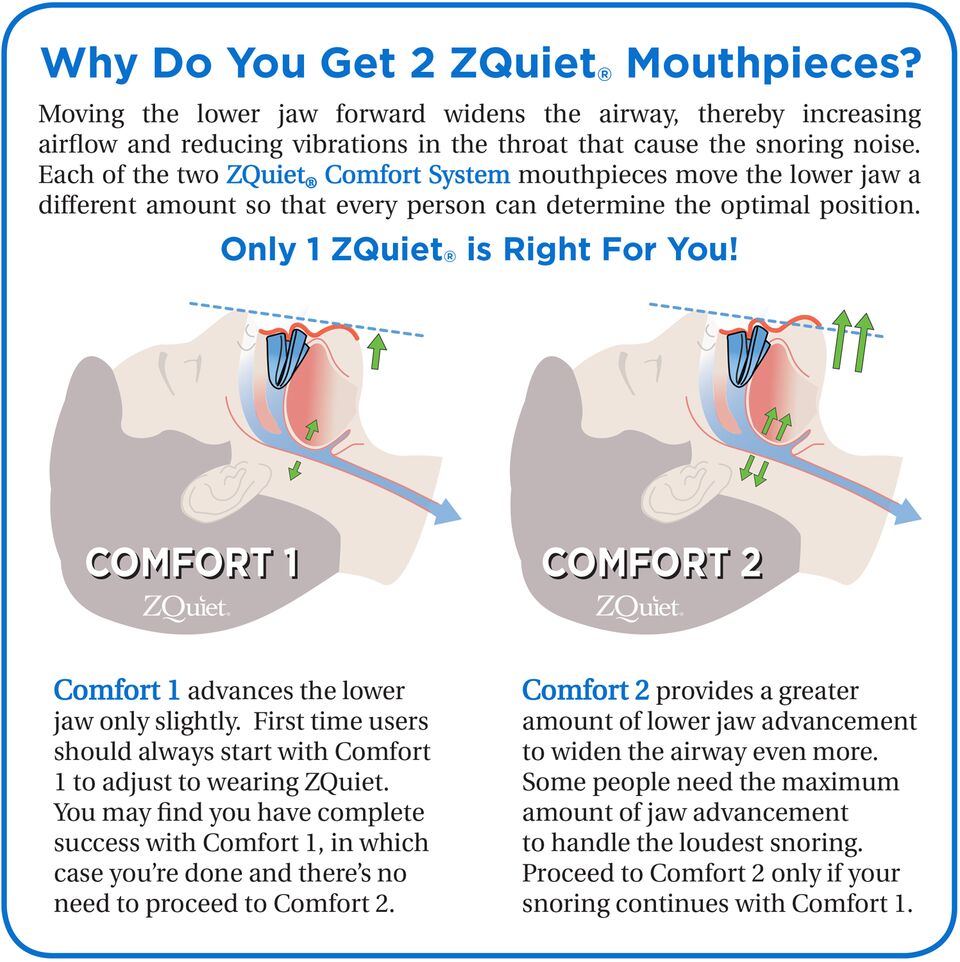 Beware of Jaw Soreness
A common side effect of wearing a mandibular advancement device is jaw soreness for at least the first few days (sometimes longer) until you get used to the product. With that being said, I know of a few people who have given up completely on MADs as they continued to feel soreness for a number of weeks.
To be honest, jaw soreness will vary from person and person, which is why I think it's actually a great idea that ZQuiet offers two devices, allowing for an adjustment period.
You can actually go one step further and rather than jumping straight in and wearing the mouthpiece for the entire night when you first receive it, you can spend some time acclimatizing to it by wearing it for 20-30 minutes at a time during the day.
Manufacture
The ZQuiet mouthpiece is made from medical-grade plastic (a non-toxic thermoplastic elastomer compound), which is completely free of latex or BPA.
The device is also FDA approved, so you have the satisfaction of knowing it has been cleared by a government agency and is a medical device that is confirmed as safe and effective for consumers.
How ZQuiet Differs From Other MADs
Unlike the vast majority of MADs the ZQuiet device is not a "boil and bite" mouthpiece.
Most other anti snoring mouthpieces will require a customization process before you use them. This typically involves adding the device to hot water and then biting into it, so it forms a mold of your teeth, thus giving you (hopefully) the perfect fit.
However, the bite, boil and molding process will mean that the mouthpiece will tend to be very rigid, which doesn't allow for mouth movement and more importantly, for mouth breathing.
No such requirements or problems with the ZQuiet device due to the flexible plastic design, so you can use straight out of the box.
With that being said, there is one disadvantage that I see with the ZQuiet mouthpiece when compared to its competitors – there may be some issues with fitting.
As most MADs require a customization process they are molded to fit perfectly around your teeth and mouth. Don't get me wrong, many of the devices I have seen are fairly bulky, which in itself leads to problems with soreness.
But, with ZQuiet if you have a small mouth you may have to cut it down to fit, but if you have a big mouth (I know no-one wants to admit to that) then this product may not be for you. If this is the case you'll need to seek out a MAD that allows for greater customization, or perhaps even a completely different type of anti snoring product.
Does It Actually Work?
So, I guess the most important question on your mind – does the ZQuiet mouthpiece work and will it stop me from snoring?
My immediate answer is YES.
My experience of mandibular advancement devices is that in the main they do stop the sound of snoring, if of course your snoring is caused by your tongue blocking your airways and the vibration of the soft tissues at the back of the throat.
And the ZQuiet mouthpiece appears to be one of the better MADs available in the marketplace, due to its flexible design and the fact it allows you to breathe through your mouth
The product can be used for mild cases of sleep apnea, but not central sleep apnea (ZQuiet themselves quite responsibly inform you on their website that their device isn't intended for those who suffer with sleep apnea, and that you should seek medical advice if this is an issue).
How Long Does The Product Last?
Based on customer feedback you can expect the ZQuiet mouthpiece to last anywhere between 12-24 months, although this depends on the individual, but the average time frame appears to be about 15 months.
I would suggest for the price you are paying for the ZQuiet mouthpiece this is actually a fantastic deal.
To ensure the device lasts as long as possible you need to clean and maintain it as often as possible. I would recommend cleaning it with a toothbrush and toothpaste every morning after use, the same time as you brush your own teeth would be perfect. Then simply rinse in warm water and pat dry with a towel.
Unlike other MADs and due to the plastic design you won't need to soak the device in a denture cleanser and I definitely would advise against ever soaking it in mouthwash.
Who Shouldn't Use This Device?
Talking of dentures, the ZQuiet mouthpiece is only recommended for users with natural teeth, as there is the possibility of it slipping out.
In addition, you should not be using the ZQuiet device if you have loose, sore, or painful teeth; braces, recent implants, loose crowns; oral infections, sore gums, periodontal disease; jaw soreness or a history of TMJ.
Let's Talk Price
The ZQuiet 2-Size Comfort System Anti Snoring Mouthpiece (to give it it's full name) at the time of writing is available for $79.95 (discounted from $99.95).
However, you do have the option to "try before you buy" – ZQuiet offers a 30-day trial for just $9.95, so you can actually test the product for an entire month and if you're not satisfied, simply return the mouthpiece (the website has a specific return's portal with instructions).
If the product is unreturned after 30 days, the credit card you used for the original $9.95 trial offer will be billed for $79.95 (please note that you will be charged the full purchase price after the 30 day period).
You should also be aware that the trial and shipping fees ($8.95) are non-refundable.
Try ZQuiet For 30 Days – Just pay $9.95 plus Shipping And Handling. Order Now!
Talking of Shipping
ZQuiet ships from the East Coast of the United States and most shipments will arrive within 5-7 working days, although you have the option for a rush shipping order (2-4 business days).
If you order your device Monday to Friday before 11am EST it will be shipped the same day. Any orders after 11am will be shipped the next business day.
If you live outside the United States the ZQuiet mouthpiece can be ordered in selected countries around the globe. These are:
Australia
Austria
Belgium
Canada
Finland
France
Germany
Great Britain/UK
Hong Kong
India
Israel
Japan
Liechtenstein
Luxembourg
Middle East
Netherlands
New Zealand
Switzerland
South Africa
ZQuiet provides links to their international distributors via their website.
Guarantee
All ZQuiet products come with a 60-day money back guarantee.
If for any reason you are not happy with this (or any other) product then simply follow the instructions in the return's portal on their website. Ship back the ZQuiet device with a Return Authorization RMA (you'll find this within the return's portal) within 60 days and you will receive your money back.
Please note once again that any trial, shipping and processing fees are non-refundable.
You are still covered by the 60-day guarantee if you choose to trim or modify the ZQuiet mouthpiece. As I've mentioned, if you have a small-sized mouth, or even if you find that the device irritates your gums or teeth, making small modifications could provide a solution.
The product comes with an instruction manual that provides recommendations on how to modify the mouthpiece, and you can rest safe in the knowledge that this won't void your guarantee.
Product Pros
2 separate devices that allow for customization and acclimatization
Allows for mouth movement and mouth breathing
You can drink with the mouthpiece still in
No "boil and bite" process required for set up
Made from medical-grade plastic and free from latex and BPA
30-Day trial period for just $9.95
60-Day money back guarantee if unsatisfied
Guarantee is NOT voided if you trim or customize the device
Over 1 million happy customers
FDA-cleared and approved
19 international distributors outside of the US
Product Cons
Not suitable for moderate to severe, and central sleep apnea
May not fit all size mouths
Cannot be used with dentures (and various other dental issues as listed above)
Final Thoughts
I would say all-in-all the ZQuiet anti snoring mouthpiece is actually quite impressive.
It differs from many mandibular advancement mouthpieces in the marketplace and I like this fact. You could say the device is completely unique to ZQuiet, but still just as good (if not better) than pretty much any MAD out there.
I also like the fact that you get a 30-day trial period for just $9.95, as I know only too well the hassle of purchasing anti snoring mouthpieces and then finding that it isn't the solution for you.
The 60-day money back guarantee is also very generous of ZQuiet when compared to many of their competitors.
And possibly the greatest benefit is wearing the mouthpiece and still being able to move your mouth, and breathe through your mouth.
So, the ZQuiet snoring mouthpiece gets a thumbs up from me.